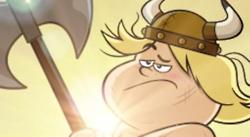 Thor Thorson is a hero in Norse culture (apparently), who Gunther pretends to be in "Bwar and Peace", and dresses up as in "Kick or Treat". According to Gunther, he was so fierce in battle that he wore purple tights to avoid intimidating his own men.
Ad blocker interference detected!
Wikia is a free-to-use site that makes money from advertising. We have a modified experience for viewers using ad blockers

Wikia is not accessible if you've made further modifications. Remove the custom ad blocker rule(s) and the page will load as expected.