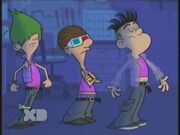 "The Yeah Brads" is a band that Brad and his friends form in "Garage Banned".
Background
The group is formed when Brad, Pantsy and Horace want to win the Battle of the Bands in order to use Kick's garage as a new hangout. Apparently they are good, but it's eventually discovered that they don't actually sing and instead, lip-sync to an already recorded track.
Ad blocker interference detected!
Wikia is a free-to-use site that makes money from advertising. We have a modified experience for viewers using ad blockers

Wikia is not accessible if you've made further modifications. Remove the custom ad blocker rule(s) and the page will load as expected.