Javier


Gender:
Male
Species:
Human
Hair color:
Black
Eye color:
Black
Personal Information
Affiliations:
 
Principal Rival's best student
Occupation:
 
Student
Speller
Residence:
 
Non-Mellowbrook
Friends:
 
Principal Rival
Kick Buttowski (current)
Enemies:
 
Kick Buttowski (former)
Principal Henry
Interests:
 
Spelling
Daredevil Idols:
 
Kick Buttowski
Family
Parents:
Unnamed Mother
Production Information
First Appearance:
 
"Bee Awesome!"
Last Appearance:
 
"Bee Awesome!" (speaking)
"Last Fan Standing" (appearance)
Voiced by:
Nestor Carbonell
Javier is a young, undefeated and intellegent speller of supposedly Spanish descent. After "Bee Awesome!", he is seen as one of Kick's fans.
Trivia
He pronounces the letter R with a Spanish accent. This may prove that he might be of Spanish descent.
Images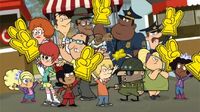 Ad blocker interference detected!
Wikia is a free-to-use site that makes money from advertising. We have a modified experience for viewers using ad blockers

Wikia is not accessible if you've made further modifications. Remove the custom ad blocker rule(s) and the page will load as expected.