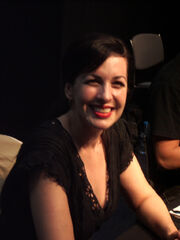 Grey DeLisle (born August 25, 1973) is an American singer-songwriter and voice actress. To date, she has released four solo albums and has featured on the tribute album Anchored in Love: A Tribute to June Carter Cash and film soundtrack of Loggerheads. DeLisle has had many roles in television programmes such as Princess Azula in Avatar: The Last Airbender and Mandy in The Grim Adventures of Billy and Mandy. DeLisle has also had voice acting roles in many computer and video games, such as Yangja and Yoshen in Escape from Monkey Island, numerous characters in Baldur's Gate II: Shadows of Amn, Tomb Raider: Anniversary and Tomb Raider: Underworld as Jacqueline Natla and several Star Wars games. In addition to her numerous English-speaking roles, she also speaks Japanese as the character Yumi in television programme Hi Hi Puffy AmiYumi. She also voices the character Kitty Katswell from T.U.F.F Puppy and Brianna Buttowski from Kick Buttowski: Suburban Daredevil
Ad blocker interference detected!
Wikia is a free-to-use site that makes money from advertising. We have a modified experience for viewers using ad blockers

Wikia is not accessible if you've made further modifications. Remove the custom ad blocker rule(s) and the page will load as expected.