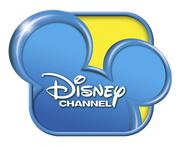 Disney Channel
is an American basic cable and satellite television network that is owned by the Disney-ABC Television Group division of The Walt Disney Company. Aimed mainly at pre-teens and teenagers 9–14 years of age and its preschooler-targeted shows aimed at children 2–6, its programming consists of original first-run television series, theatrically-released and original made-for-cable movies and select other third-party programming. The channel's programs were originally marketed towards families, and then to younger children by the late 1990s, although its viewing audience has diversified since the mid-2000s to include older teenagers and adults.
International Channels of Disney Channels airing Kick Buttowski
United States
Canada
Spain
France
Italy
German
Bulgaria
Australia
New Zealand
Southeast Asia
South Korea
Israel
Russia
Philippines
Ukraine
Taiwan
Hungary
Sub- Saharan Africa (Disney Channel Southern Africa)
Romania
Czech Republic
Croatia
Turkey
Latin America
Ad blocker interference detected!
Wikia is a free-to-use site that makes money from advertising. We have a modified experience for viewers using ad blockers

Wikia is not accessible if you've made further modifications. Remove the custom ad blocker rule(s) and the page will load as expected.