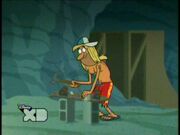 "Dead Man" Dave
is a famous skateboarder believed to be dead but in "
Dead Man's Roller Coaster
" it is revealed that he is still alive. He's voiced by David DeLuise.
Trivia
Kick goes to his hideout and retrives a skateboard that Dave made in "The Treasure of Dead Man Dave" (this quest forms the basis of Kick's oral report on him in the same episode).
His motto is,"Do it all... and then some!"
Dead Man Dave is the only one of Kick's idols that isn't a member of The Pantheon. He's also the only idol of Kick that does not appear in "Last Fan Standing".
Ad blocker interference detected!
Wikia is a free-to-use site that makes money from advertising. We have a modified experience for viewers using ad blockers

Wikia is not accessible if you've made further modifications. Remove the custom ad blocker rule(s) and the page will load as expected.